What is Lions Club?
A LION is an individual who desires to be of service to his or her community.
Willingness within his means to expend his energy and resources for the benefit of that community and those less fortunate than he.
He seeks no personal gain through his affiliation with Lionism.
He seeks and gives comradeship among his fellows.
In becoming a Lion you will share in the recognition of being a member of the largest service organization in the world.
You will be recognized in your community as a volunteer working toward improving life for those less fortunate.
You can gain invaluable leadership experience in the conduct of meetings and experience the thrill of leadership in your Lions Club.
You can meet other business leaders and promote your business.
Attend a meeting as a guest of a Lion or Club.
Membership is by invitation extended by a Lion.
Let your host know of your desire to join–or send in an application form to the Club.
After two meetings as a guest, you complete the application and give it to your host or the Membership Chairman.
Board action confirms or denies your application. Your host notifies you of your acceptance. Upon receipt of payment of dues and initiation fee your Membership Chairman will schedule your installation date.
Your installation as a Lion Cub into the Cucamonga Host Lions Club is conducted by a dignitary from the District. This occasion is considered to be a solemn and joyous moment for the club as another member joins the "We Serve" organization and for you the sharing of that privilege.
Service clubs are non-profit organizations engaged in some way in service of a charitable nature to their community. They take many forms and support many different needs. They are an organized way for you to give back to your community.
The Lion Tamer is custodian of club property. The Lion Tamer maintains, hauls, stores and sets up club equipment.
The Tail Twister adds fun to the meeting. Typically members are fined nominally for minor infractions in a humorous way.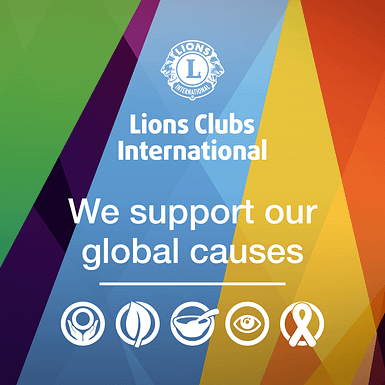 The Team
We come from all walks of life with one common thread, the spirit to serve.
Service
"Start where you are. Distant fields always look greener, but opportunity lies right where you are. Take advantage of every opportunity of service." – Robert Collier.
What were involved with.
City of Hope, Camp Teresita Pines, Lions Float, Scholarships for Local Students, Student Speaker Contest, Book Donations, Elementary Reading Program, Lions Recycle for Sight, Vision Screenings, Military Bags, Toys for Tots and more